Welcome to The Paddocks Riding Centre
"A family run horse riding centre, with lovingly cared-for horses".
The Paddocks Riding Centre is a truly fabulous equestrian facility located high in the Dublin Mountains overlooking Dublin City. We are a family run horse riding centre with stables and facilities to house a large number of horses. Why not get away from the busy city life and enjoy some riding lessons, a one or two hour exciting trek through the Dublin mountains enjoying the amazing views and beautiful scenery. Or for a special day out, why not hold your birthday party at The Paddocks (for kids or adults) followed by BBQ or party.
See our events page for details.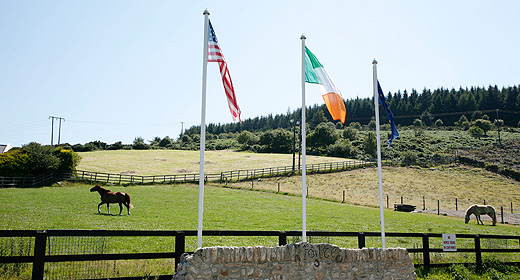 "Pure, unbridled thrills ....the stable yard exudes a sense of calm order.... once their lesson is over they return to the yard for lunch before going on their afternoon ride-out – the most exciting part of their day.... by the end of the week they can't get enough of it."
The Irish Times - Article July 2010